Amsterdam: Not Just Coffee Shops
Last September, a group called Amsterdam Uitgebrand (Burnt Amsterdam) held a symbolic funeral for the city by the iconic 'IAmsterdam' sign in protest of the problems caused by tourism. The question is: who are really causing these problems?
What are the first things you think when you think of Amsterdam? The Red Light District and coffee shops are normally top of the list for young travellers. In fact, in the Amsterdam Visitors Profile (2012), 35% of respondents included visiting a coffee shop in their activities, whilst 46% included walking around the Red Light District. The symbols of the city used to be its picturesque canals and abundance of bicycles, but within one generation this has changed. The city has earned a reputation for its easy access to drugs and is now considered by young travellers to be one of Europe's biggest party destinations. In addition, the lure of the city's famous Red Light District has contributed to the city's attraction for young men looking for a 'lad's weekend'.

Thanks to the rise of budget airlines and the ability to book apartments cheaply through sites such as Airbnb, spending a weekend 'going large' in the city is now cheaper than ever. According to the Netherlands Board of Tourism and Conventions (NBTC) there was an 11% increase of British tourists to the country from 2012 to 2014 – and those figures are set to rise.
Drugs
According to Simon Ihns, a student at the University of Amsterdam, for young people one of the major attractions of the city is the ability to buy soft drugs with next to no consequences: "to them it's basically one big party." He suggests that one option would be to "stop the sale of soft drugs to tourists – you should only be able to buy them with a Dutch passport. There have been talks of this, but so far it hasn't been imposed. Of course, the downside of this is that Dutch people could make money selling them to tourists."
Misconceptions, Problems & Protests
In a 2014 People's Question Time Debate, London mayor Boris Johnson called the progressive attitude towards drugs of countries such as the Netherlands to be 'outdated' and referred to Amsterdam's city centre as 'sleazy'. In response, Amsterdam Mayor Eberhard van der Laan invited him to visit the city in order for him to witness the disruptive behaviour of his fellow countrymen. This shows that the relationship between Brits and Amsterdammers has broken down. The British perception of Amsterdam is of a seedy, drug-capital with easy access to prostitutes, whilst Amsterdammers criticise the behaviour of drunk British tourists who cause chaos in their city.
One of the main problems of the rise of tourism in the city is the size of the crowds. The influx of tourists has led to noticeable crowding of the city's cobbled streets. Last year, police were forced to close off one of the city's main shopping streets when it had become so crowded that people could not exit the shops.
The Beer Bike Debate: The Wrong Kind of Tourism
Mayor Van Der Laan is not the only Amsterdammer who thinks of British tourists as loud, drunk and disruptive. Many Dutch residents have held a number of protests against this drunken tourism. For example, some inner-city hotels have begun to ban groups of more than six men in an attempt to discourage stag parties and this kind of drunk 'lad' culture in the city.
Another of the residents' concerns is with the infamous beer bike. The beer bike is a multi-passenger vehicle powered by pedals, well equipped with music and beer – in essence, it is a mobile bar crawl. The Friends of Amsterdam City (VVAB) started a petition in April 2015 to ban the beer bike in the inner city. The petition, which translates as 'away with the beer bike', now has over 6500 signatures since its inception.

The Dutch newspaper Het Parool discusses the issue of the beer bike in depth and concludes that whilst it is a concern of many Amsterdammers, the tourist problem will not simply go away once the beer bike is banned. Instead, the wider issues around tourism in the capital need to be tackled. Simon said that "the beer bike should be banned as the streets are too narrow. It takes up cycle lanes which disrupt residents, and passengers throw stuff and shout things drunkenly. But the ban wouldn't really solve any problems. The beer bike is simply a metaphor, a symbol for the problem of noisy tourists in Amsterdam. The beer bike attracts the wrong kind of people to the city."
However, perhaps the most poignant protest held by Amsterdammers against the problems caused by this kind of tourism was the symbolic funeral they held for the city's 'IAmsterdam' sign at Museumplein. The sign has stood in the square for eleven years and is one of the world's most famous slogans. The organisers, Amsterdam Uitgebrand, wrote on their Facebook page that the funeral was "the opportunity for you to say goodbye, to lay flowers and light candles". The group believe the symbolic funeral to be the opportunity to raise the issues caused by tourism to the city's economy, which they feel is too focused on tourism.
These protests signify that many resident Amsterdammers feel that the relationship between residents, tourists and businesses has broken down.
Tourism Isn't A Bad Thing!
Despite this loss of balance between residents and tourists, most Amsterdammers agree that tourism brings in an important part of their city's income. The Amsterdam Visitors Profile (2012) found that Amsterdam's total direct revenue from the tourist sector was €5.7 billion. Tourism also provided the local economy with 50, 590 full-time jobs.
As Simon notes, "the positives of tourists are that it means there is a mix of nationalities in the city which is always fun – that's what being a big city is about".
A Solution?
The relationship between residents and tourists, the Dutch and the Brits, Boris Johnson and Van Der Laan, although out of balance, can be rebuilt. But this can only be done through mutual understanding of the problems this kind of tourism creates for Amsterdam.
An example of an attempt to rekindle such understanding is the 'Yellow Backie Scheme' created in 2015. The idea is simple: visitors shout "backie" whenever they see a cyclist with a yellow luggage rack, can hop on the back of it and travel a short distance while enjoying a conversation with a local. The scheme was created as a way to encourage positive exchanges between residents and visitors. It is a great way for young tourists to meet locals.
Therefore, it is possible to for locals and tourists of Amsterdam to co-exist in harmony. Dutch people definitely don't want a complete ban of tourists from their capital. But they are tired of the kind of 'tourism' which leads to vomiting on their streets. What needs to change is the kind of tourism the city attracts and the behaviour of the tourists themselves.
British culture could learn a lot from the celebrated liberal, tolerant and accepting attitude of the Netherlands – so let's not take advantage of that acceptance by drunkenly trashing their city.
My Experience
"Will you be in a fit state?!" joked my doctor when I booked an appointment two days after I would return from Amsterdam. As I chuckled along awkwardly, I was intrigued as to how Amsterdam had earned its reputation as one of Europe's hard-core party capitals, capable of producing two-day hangovers in its visitors.
I spent my first visit to Amsterdam doing exactly this sort of thing: being a trashed Brit abroad. We got drunk three nights in a row at bars and clubs aimed at tourists which were filled almost exclusively with Brits. We visited coffee shops; ate 'brownies' and even went to a live sex show on the Red Light District. Yes, we tried to do cultural activities too, but they were mostly half-hearted attempts. We were far too hungover to enjoy the free walking tour; the information the guide gave us is now a half-remembered, muddled memory. Attempting to cycle through the city while feeling nauseous is an experience I would not like to repeat. And when I saw the 'IAmsterdam' sign, I couldn't get anywhere near it, let alone take a good photo, because the sign was swamped by crowds of tourists clambering over the letters.
"You could say that we 'did' Amsterdam: we ticked off all of the typical criteria that most young people aim to complete. But in all honesty, it is not all that's it's cracked up to be."
By the end of the trip, I regretted not having seen more of the city and experienced more of its culture. We could have at least tried out a Dutch club, instead of the exact sort of place we could get back home. And the sex show was just, well, weird. I mean, does anybody really enjoy being in a dark room filled with stag parties of inebriated men, watching a dancer do terrible things with rainbow-coloured string?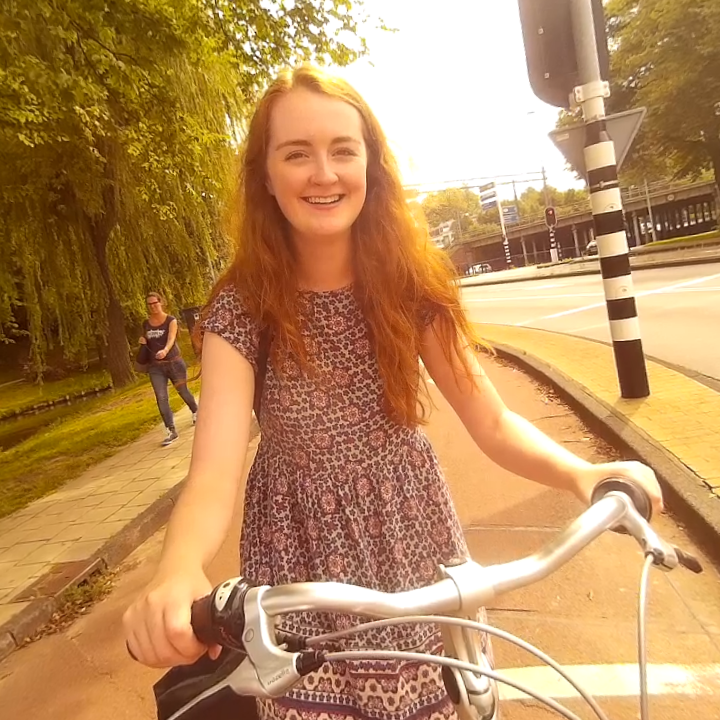 My second trip to Amsterdam, just three months later, was much more satisfying. I experienced the euphoric atmosphere of the Amsterdam Sail Festival (as well as some pretty bad sunburn). The lush green expanse of Vondelpark was the perfect place to stroll around and I spent an afternoon basking in the sunshine by one of its lakes. I caught a ferry to the North of the city and discovered a Dutch innovation: students living in converted sea-containers. I even managed to cycle to the beach at Bloemendaal from Haarlem without falling off the bike once (although there were some pretty close calls). An interminable number of Poffertjes were also consumed throughout the trip. This visit made me feel like I'd truly experienced the city and learnt a little about Dutch culture. My favourite thing about the Dutch is their untranslatable word 'Gelzelligheid': the closest definition is a mix between 'cosy' and 'fun'. The friends I have made on my travels have shown me how this word is really woven into the Dutch identity.
So when I next visit Amsterdam, I'm going to leave the drunk Brit behaviour at home, swap my heels for a pair of scruffy trainers and experience Amsterdam for Amsterdam, not as a haven for British tourists to get trashed in. 
How Not To Be A Trashed Brit Abroad
Let's salvage our reputation!
Please and Thank You
Most Dutch residents speak perfect English (they ranked 2nd in the Education First English Proficiency Index 2015). So while it's true that you can visit Amsterdam and speak English the whole time, Dutch residents absolutely love it if you try to speak their language. Besides, what is the fun of just speaking English when you're abroad? Even just saying please 'alstublieft' (AHL-stu-BLEEFT) and thank you 'dankjewel' (DANK-you-VEL) will make any Amsterdammer love you. They will almost certainly tell you that your accent is 'cute', too.
Don't Heckle
One of the residents' main complaints about us Brits is our noise level. There really isn't any need to heckle unsuspecting women, or to grace the city with a 3 am rendition of 'God Save the Queen' after one too many tequila shots, is there? We should remember that people actually live in the city and it wasn't just built for us to go wild in. The same goes for playing loud music from your apartment – it might be fun at the time, but remember that Dutch people need sleep too.
Don't Dress to Impress
The Dutch are pretty casual people, especially when it comes to clothes. Even when students go clubbing, they remain dressed casually; you will almost never see a Dutch girl wearing fake-tan, killer heels or a bum-length skirt. So if you're going to Amsterdam and want to blend in remember to dress appropriately. No one is saying you need to don a nun's habit, but swapping that body-con dress for a pair of jeans won't hurt, especially if you're planning on going to a techno club.
5 Things To Do In Amsterdam That Isn't Getting Trashed
Visit a Museum
With over 60 museums Amsterdam the highest museum density in the world. There are many for history nuts and art lovers, such as the renowned Anne Frank House or the Van Gogh Museum. There are also smaller establishments, such as the charming Museum of Canals (Het Grachtenhuis), a great interactive museum which tells the story of Amsterdam's unique canal structure.

Enjoy a Festival
During Amsterdam's Sail Festival, which happens every five years, huge crowds gather to wave the historic ships sailing into the city as well as to experience maritime-themed performances and concerts. There are also many chances to explore the ships. In addition, almost every Dutch resident with a boat – from the shiniest speed-boat to the lowliest of wooden row-boats joins in on the fun in the water. With each boat playing its own music, it's basically one big party on the river – an amazing atmosphere to experience. And for the evening there are stunning firework displays.
Sample Some Dutch Delicacies
Dutch cuisine isn't exactly well-known. But you cannot go to Amsterdam without visiting an 'Automatiek': think of it as a giant vending machine for fast-food. There you can purchase a heavenly kaassoufflé (deep-fried cheese). Another treat that you should try are poffertjes. They're a traditional batter treat – they look like mini pancakes, and are usually covered in powdered sugar –yum!
Cycle
It is no secret that the Dutch love to cycle. In fact, in Amsterdam, there are more bikes than people. The city is one of the most bike-friendly in the world, so what better way to see the city's picturesque canals than by cycling? Just remember, if you hear a procession of angry bell-ringing behind you, you're probably cycling too slowly…
Get out of the city
The beaches of the Netherlands are one of the country's best-kept secrets. And the great thing about Amsterdam is that it is close enough to the coast that an excursion to the sea is easy. Why not catch a train to the nearby town of Haarlem, where it is only a short cycle to a beach at Bloemendaal or Zandvoort? You can spend a day surrounded by rolling sand dunes, relaxing under a clear blue sky and paddling in the lapping waves.
References
Amelia, M. 2015. Amsterdam Canal. [Photograph].
Amelia, M. 2015. Sail Amsterdam 2015. [Photograph].
Amsterdam Tourism and Convention Board. 2012. Amsterdam Visitors Profile 2012. [Online] [Accessed 14 November 2015] Available from: http://issuu.com/iamsterdam/docs/boa_bezoekersonderzoek_amsterdam
Bos, E. 2007. Donnie Vinnie en Sjakie Show. [Online] [Accessed 14 November 2015] Available from: https://www.flickr.com/photos/... 14 November 2015]. 
Het Parool. Toerisme. [Online]. [Accessed 14 November 2015]. Available from: parool.nl/parool/article/pagedList.do?language=nl&navigationItemId=1&navigation=home&nodeId=800000717&nodeTitle=Toerisme&layoutType=2col

Ihns, S. 2015. Cycling in the Netherlands. [Photograph].

Zoomin.TV Nederland. 2015. Symbolische begrafenis voor I Amsterdam. [Online]. [Accessed 14 November 2015] Available from: www.youtube.com/watch?v=VRa7l8E_TV0